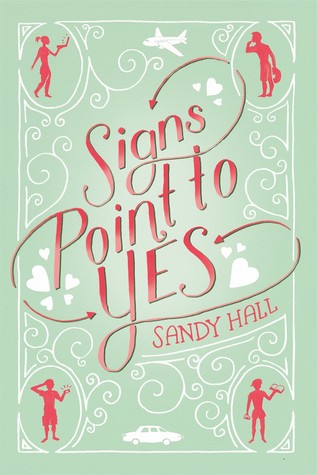 Signs Point to Yes by Sandy Hall
Released: October 20th, 2015
Read: January 2016
Publisher: Swoon Reads
Format: Paperback, 228 pages
Series: n/a
Source: Bought
Description from GoodReads:
If only Jane's Magic 8 Ball could tell her how to get through the summer. With her "perfect" sister, Margo, home for her "perfect" internship, Jane is not going to be able to spend the summer writing fan fiction, as she had planned. And her emergency babysitting job requires Jane to spend the whole summer in awkward proximity to her new crush, Teo, a nerdy-hot lifeguard with problems of his own. With his best friend out of town, Teo finds himself without anyone to confide in…except Jane. Will Jane and Teo be able to salvage each other's summer? Even the Magic 8 Ball doesn't have an answer…but signs point to yes.
Review:
This adorable book is just as cute on the inside as the amazing cover. Its got a wonderfully complicated, but-if-they-just-
told
-each-other romance, with other small plots that sort of get solved.
Margo, who unsurprisingly, is not "perfect", barely gets her issues resolved. Teo's issues sort of get swept under the rug after he realizes he's in love with Jane (spoiler alert?). Not even the romance gets completely solved.
If you just read it as a sweet and simple love story, and not over-analyze the plot holes, it's a lovely book! Jane is a typical teenage girl, with an annoyingly perfect older sister, and a crush. A great summer romance.
Rating:
7/10
Read if You Liked:
Say You Will, The Fault in Our Stars, easy reads, cute romances
Optimistically yours, Ola <3