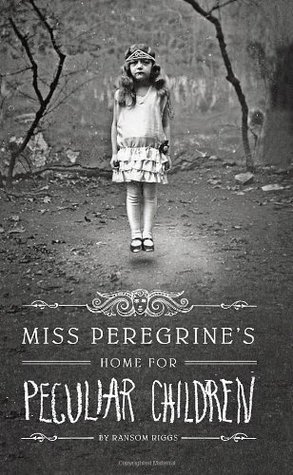 Miss Peregrine's Home for Peculiar Children by Ransom Riggs
Released: June 7th 2011
Read: June 2013 (for the first time), July 2016
Publisher: Quirk
Format: Paperback, 352 pages
Series: Miss Peregrine's Peculiar Children #1
Description from Goodreads:
A mysterious island. An abandoned orphanage. A strange collection of curious photographs.
A horrific family tragedy sets sixteen-year-old Jacob journeying to a remote island off the coast of Wales, where he discovers the crumbling ruins of Miss Peregrine's Home for Peculiar Children. As Jacob explores its abandoned bedrooms and hallways, it becomes clear that the children were more than just peculiar. They may have been dangerous. They may have been quarantined on a deserted island for good reason. And somehow—impossible though it seems—they may still be alive.
Review:
Story time! I received this book for my 13th birthday, as my family and I were on our way to a cabin of a family friends. Being an exciting and creepy book, I devoured it on my way there. By the time we arrived, I was a quarter of the way through, and (honestly) a little scared. What made matters worse, was that the cabin was extremely old and used to be a vacation place for many kids (and families). Because of this, the entire yard was strewn with old and abandoned toys, rusting with age. That and coupled with the overgrown forest and yard all around the toys scared me out of mind! When it came that I had to sleep in a old furnished room by myself, I'll admit I started crying. I was completely convinced that the wights (the blank eyed bad guys) would pop out at me during the night! Reading it now older and wiser (only three years later) made me realize that perhaps it wasn't quite as scary as I thought. Even though it scared the crap out of me when I was younger, this is one book that I keep recommending over and over. In fact, I have one friend who hates reading (I know, I know, how am I friends with her?! Love you any ways Lor!) but she absolutely adores this book/series. What I enjoy about it are the vintage photograph that add a whole extra dimension to the plot. From start to finish, the book held my attention, and I finished rereading this in a day. I found the characters wholly formed, and finding out what each persons power was, was one of the best parts of the book. I thought that the plot was executed to a tee, and it left me wanting more. Even though it was mildly terrifying, it makes for a story that is unforgettable to say the least. The only critique I have, is that there should have been more photos included. I felt like that for of book of that size, more pictures could've been added. But it was still a fantastic read!!
Favourite Quote:
"I used to dream about escaping my ordinary life, but my life was never ordinary. I had simply failed to notice how extraordinary it was. Likewise, I never imagined that home might be something I would miss."
― Ransom Riggs, Miss Peregrine's Home for Peculiar Children
Rating: 8.5/10
Recommended for people who enjoy: suspense, eerie mysteries, thrillers, mixed media books
Happy Reading,
Mari
P.S. Keep a look out for my reviews of the last two books in the trilogy!