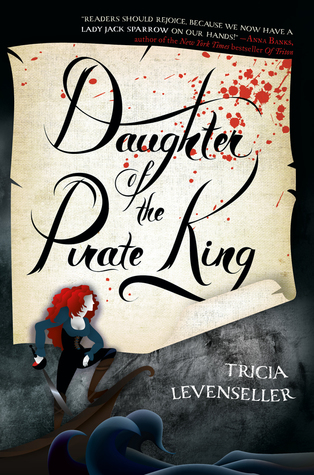 Daughter of the Pirate King by Tricia Levenseller
Released: February 28th, 2017
Read: March 2017
Publisher: Feiwel & Friends
Format: Hardcover, 320 pages
Seiries: Daughter of the Pirate King No. 1
Summary from Goodreads:
There will be plenty of time for me to beat him soundly once I've gotten what I came for.
Sent on a mission to retrieve an ancient hidden map—the key to a legendary treasure trove—seventeen-year-old pirate captain Alosa deliberately allows herself to be captured by her enemies, giving her the perfect opportunity to search their ship.
More than a match for the ruthless pirate crew, Alosa has only one thing standing between her and the map: her captor, the unexpectedly clever and unfairly attractive first mate, Riden. But not to worry, for Alosa has a few tricks up her sleeve, and no lone pirate can stop the Daughter of the Pirate King.
Review:
I grew up watching Pirates of the Caribbean, and from a young age I was entranced by the idea of pirates and their stories, as they sail the seas. However, I did wish that there were more women involved (I was so heartbroken when Elisabeth Swan was not in the 4th movie!). This book satisfies that craving TO THE MAX. Alosa is one of the best heroines that I have ever met, and she is strong and powerful. She is the feminist alternative to Jack Sparrow (or even Elizabeth, she was kinda dependant on Will Turner..) and reading the book in her voice is so interesting. I loved that it was so action-packed, and that there was never a moment where I wanted to put the book down in search of something more interesting. While I don't want to spoil, I loved that many of the iconic pirate legends were incorporated into the book. It made it even better in a way. Other than that, I primarily enjoyed myself. The one thing that kinda irked me was the constant shifting of "teams" in regards to one of the other main characters (again, I don't want to spoil). It was sorta hard to follow in the long run, as it was almost constant, the shifting back and forth. However, this book is great for in between long and tough reads as it really satisfies the inner child in you, one who dreamed of becoming a pirate themselves!
Favourite Quote: "Lass, you've the face of an angel but the tongue of a snake."
― Tricia Levenseller, Daughter of the Pirate King
Rating: 8/10 Stars
Recommended for people who enjoy: swashbuckling adventures, femminist narratives, romance, pirates
Happy Reading,
Mari