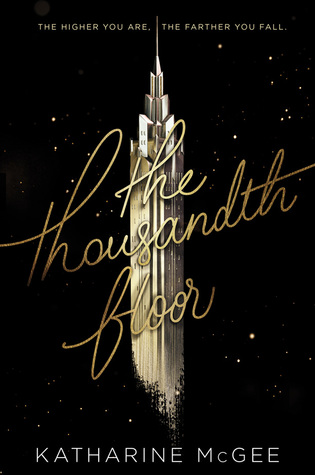 The Thousandth Floor by Katharine McGee
Released: August 30th 2016
Read: May 2017
Publisher: HarperCollins
Format: Paperback ARC, 448 pages
Series: The Thousandth Floor No. 1
Summary from Goodreads:
NEW YORK CITY AS YOU'VE NEVER SEEN IT BEFORE.
A thousand-story tower stretching into the sky. A glittering vision of the future where anything is possible—if you want it enough.
WELCOME TO MANHATTAN, 2118.
A hundred years in the future, New York is a city of innovation and dreams. Everyone there wants something…and everyone has something to lose.
LEDA COLE's flawless exterior belies a secret addiction—to a drug she never should have tried and a boy she never should have touched.
ERIS DODD-RADSON's beautiful, carefree life falls to pieces when a heartbreaking betrayal tears her family apart.
RYLIN MYERS's job on one of the highest floors sweeps her into a world—and a romance—she never imagined…but will this new life cost Rylin her old one?
WATT BAKRADI is a tech genius with a secret: he knows everything about everyone. But when he's hired to spy for an upper-floor girl, he finds himself caught up in a complicated web of lies.
And living above everyone else on the thousandth floor is AVERY FULLER, the girl genetically designed to be perfect. The girl who seems to have it all—yet is tormented by the one thing she can never have.
Amid breathtaking advancement and high-tech luxury, five teenagers struggle to find their place at the top of the world. But when you're this high up, there's nowhere to go but down....
Review:
Holy shit, this book was super addictive! I couldn't put it down for the life of me! This was a total mystery from start to finish and it was intense. Each character developed in their own way and it was captivating from start to finish. I couldn't wait to find out who the murdered girl was, so I read all day to find out! My favourite character was Rylin, as I am clearly a sucker for a rags to riches/romance from the wrong side of the tracks story. It was so cute to watch her fall in love with the boy above floors. This book was a real thrill ride from start to finish, and I really didn't see many of the twists and turns that came into play. However, I did wish that the soft-core incest was not apart of the plot (possible spoiler? Probably not, since it was revealed pretty early on...). But regardless, the plot made up for it. I really can't wait until the next book to see what happens with all the characters.
Favourite Quote:
"If you aren't sure, then you definitely aren't in love."
―
Katharine McGee
,
The Thousandth Floor
Rating:
8/10 Stars
Recommended for people who love: futuristic stories, romance, teen drama
Happy reading,
Mari