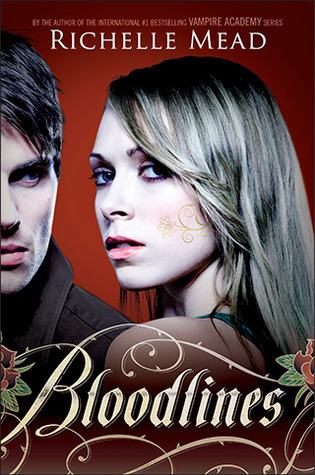 Bloodlines by Richelle Mead
Released: August 23rd, 2011
Read: April 2017
Publisher: Penguin Group
Format: Hardcover, 421 pages
Series: Bloodlines No. 1
Summary from Goodreads:
I wasn't free of my past, not yet.
Sydney's blood is special. That's because she's an alchemist - one of a group of humans who dabble in magic and serve to bridge the worlds of humans and vampires. They protect vampire secrets - and human lives. But the last encounter Sydney had with vampires got her in deep trouble with the other alchemists. And now with her allegiences in question, her future is on the line.
When Sydney is torn from her bed in the middle of the night, at first she thinks she's still being punished for her complicated alliance with dhampir Rose Hathaway. But what unfolds is far worse. Jill Dragomir - the sister of Moroi Queen Lissa Dragomir - is in mortal danger, and the Moroi must send her into hiding. To avoid a civil war, Sydney is called upon to act as Jill's guardian and protector, posing as her roommate in the unlikeliest of places: a human boarding school in Palm Springs, California. The last thing Sydney wants is to be accused of sympathizing with vampires. And now she has to live with one.
The Moroi court believe Jill and Sydney will be safe at Amberwood Prep, but threats, distractions, and forbidden romance lurk both outside - and within - the school grounds. Now that they're in hiding, the drama is only just beginning.
Review:
This was one book that satisfied an itch. After Vampire Acadamy, I was itching to relive the excitement that was the world of the Moroi. And after a while of procrastinating and reading other stuff I finally read Bloodlines. While it is different, BELIEVE me, it is just as good! The beauty of it, is that it isn't a carbon copy of it's mother series, and it actually stands on it's own. One may even argue that you could read it without prior VA knowledge. But I digress, this book was superb. I grew really attached to Sydney (our heroine) and how dang smart she was. It was refreshing to have a main character that is smart and sees no need to rush to get a boyfriend. Her character had a lot of emotional depth, and the dilemma she faces at living with a vampire makes her quite human. Unlike the original series, there are real conversations on whether or now vampires are human, what makes us human, and how can we coexist (man I make it sound like vampires are real...). Sydney is conflicted because of her Alchemist beliefs and it makes for an interesting read. Plus this book also brings back fan-faves Eddie, Jill and Adrian. I had no idea how much I loved Adrian and his self-destructive ways until I read this book. Rose clearly didn't know what she had when she was with him. All in all, this book is amazing, as it feels familiar enough to VA to feel like home, but it still holds it's own.
Favourite Quotes:
"Mmm. O positive, my favorite."
― Richelle Mead, Bloodlines
"The greatest changes in history have come when people were able to shake off what others told them to do."
― Richelle Mead, Bloodlines
Rating:
8.5/10
The Golden Lilly by Richelle Mead
Released: June 12th, 2012
Read: April 2017
Publisher: Penguin Group
Format: Paperback, 418 pages
Series: Bloodlines No. 2
Summary from Goodreads:
Sydney Sage is an Alchemist, one of a group of humans who dabble in magic and serve to bridge the worlds of humans and vampires. Alchemists protect vampire secrets - and human lives.
Sydney would love to go to college, but instead, she's been sent into hiding at a posh boarding school in Palm Springs, California - tasked with protecting Moroi princess Jill Dragomir from assassins who want to throw the Moroi court into civil war. Formorly in disgrace, Sydney is now praised for her loyalty and obedience, and held up as the model of an exemplary Alchemist.
But the closer she grows to Jill, Eddie, and especially Adrian, the more she finds herself questioning her age-old Alchemist beliefs, her idea of family, and her sense of what it means to truly belong. Her world becomes even more complicated when magical experiments show Sydney may hold the key to prevent becoming Strigoi - the fiercest vampires, the ones who don't die. But it's her fear of being just that - special, magical, powerful - that scares her more than anything. Equally daunting is her new romance with Braydon, a cute, brainy guy who seems to be her match in every way. Yet, as perfect as he seems, Sydney finds herself being drawn to someone else - someone forbidden to her.
When a shocking secret threatens to tear the vampire world apart, Sydney's loyalties are suddenly tested more than ever before. She wonders how she's supposed to strike a balance between the principles and dogmas she's been taught, and what her instincts are now telling her.
Should she trust the Alchemists - or her heart?
Review:
So as you may see, I am kinda on a Richelle Mead kick right now, specifically the Bloodlines novels. While I am always wary starting book two (given shitty histories of sequels, hello Insurgent?) this book picked up right where book one ended and it just keeps getting better. Sydney is same as ever, and this time she GETS A BOYFRIEND! Yes you read that right. Who would've thought? And for once, this boyfriend is OK with her being genius-level smart. However, what makes this book is the arrival of two well known VA characters: Sonya Karp and Dimitri Belikov (swoon!!). This new gang is ready for everything, and it feels as if it's in this book that the series has found it's way in the post-VA world. I truly loved this book, but for one very specific reason. You could tell from page one that there was some sexual tension between Sydney and Adrian. And oddly enough, I loved it. It seems that they would be really good together! The plot for this is a little darker (vampire hunters!) but the balance between that and high school life is perfect; not too much, not too little. This was a really strong sequel, and I am already getting my hands on book three!
Favourite Quotes:
"Adrian ordered a martini, earning disapproving looks from his father and me.
'It's barely noon,' said Nathan.
'I know,' said Adrian. 'I'm surprised I held out that long too."
― Richelle Mead, The Golden Lily
"Why not see which is brighter: your aura or the sun?"
― Richelle Mead, The Golden Lily
Rating:
9/10
Perfect for people who love: Vampires, teen books, romance, drama, supernatural, drama
Let me know what you think!
Happy Reading,
Mari