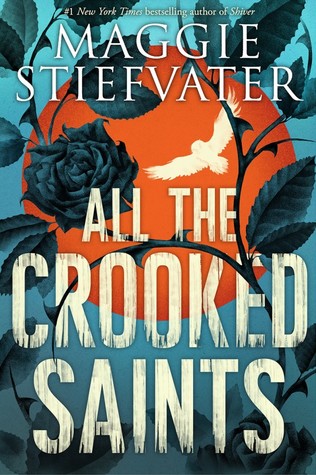 All The Crooked Saints by Maggie Stiefvater
Released: October 10th, 2017
Read: October 2017
Publisher: Scholastic Press
Format: ARC, 311 pages
Series:
n/a
Description from GoodReads:
Here is a thing everyone wants: a miracle.
Here is a thing everyone fears: what it takes to get one.
Any visitor to Bicho Raro, Colorado is likely to find a landscape of dark saints, forbidden love, scientific dreams, miracle-mad owls, estranged affections, one or two orphans, and a sky full of watchful desert stars.
At the heart of this place you will find the Soria family, who all have the ability to perform unusual miracles. And at the heart of this family are three cousins longing to change its future: Beatriz, the girl without feelings, who wants only to be free to examine her thoughts; Daniel, the Saint of Bicho Raro, who performs miracles for everyone but himself; and Joaquin, who spends his nights running a renegade radio station under the name Diablo Diablo.
They are all looking for a miracle. But the miracles of Bicho Raro are never quite what you expect.
Review: This book is kind of like a bedtime story. The narrator meanders and builds the world and characters so you can fall in love with each of them in turn. I don't mean it as an insult when I say that there's no pulse-pounding, gut-wrenching action. It's something I haven't seen before, and I really like it.
There's a lot of character. If you can picture a bunch of characters standing out in the desert, you are about halfway to the amount of characters in the story, and you didn't even count the desert as one. Sometimes, like a true bedtime storyteller, the names or backstories get a little confusing. (#itsDarlenesRooster) But all the characters are lovely, with complex but simple wants and fears that are developed through clear story arcs.
Like I said, the narrator meanders. The book describes side character's side characters background stories. It compares radio waves to miracles, and informs us in detail of a plant that takes over its environment. The intricate details set the storybook tone throughout the book.
Altogether, the novel has a languid, bedtime storyteller feel that may bore some people, but I found it interesting and relaxing.