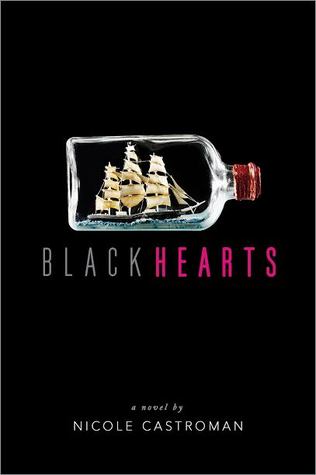 Blackhearts by Nicole Castroman
Release date: February 9, 2016
Read: December, 2015
Publisher: Simon Pulse
Format: ARC, 384 pages

Description from GoodReads: Blackbeard the pirate was known for striking fear in the hearts of the bravest of sailors. But once he was just a young man who dreamed of leaving his rigid life behind to chase adventure in faraway lands. Nothing could stop him—until he met the one girl who would change everything.
Edward "Teach" Drummond, son of one of Bristol's richest merchants, has just returned from a year-long journey on the high seas to find his life in shambles. Betrothed to a girl he doesn't love and sick of the high society he was born into, Teach dreams only of returning to the vast ocean he'd begun to call home. There's just one problem: convincing his father to let him leave and never come back.
Following her parents' deaths, Anne Barrett is left penniless and soon to be homeless. Though she's barely worked a day in her life, Anne is forced to take a job as a maid in the home of Master Drummond. Lonely days stretch into weeks, and Anne longs for escape. How will she ever realize her dream of sailing to Curaçao—where her mother was born—when she's stuck in England?
From the moment Teach and Anne meet, they set the world ablaze. Drawn to each other, they're trapped by society and their own circumstances. Faced with an impossible choice, they must decide to chase their dreams and go, or follow their hearts and stay.

Review: This book was not the swash-buckling tale I had expected, and I am perfectly happy it wasn't. Instead it had a "Downton Abbey"-esque feel to it, with the whole upper class vs. lower class struggles.
Oddly enough, the beginning was slow in a good way, because it didn't introduce characters so quickly that we forgot about them, like other books do. Instead it took its time and made sure we cared just the right amount about everyone. The plot sped up and unraveled at the right pace throughout the book and became high-paced at the end, which astounds me. How do you manage that tempo?
One of my favourite things was Anne's character development. At first she was snarky and cold, but after falling in love with the handsome Edward, she grew more attuned to her emotions and was willing to let him in. Their entire love story was amazing, especially how flustered Anne could get by realizing they were alone at times.
The bad guys were believable, the plot was amazing, and I cannot wait for the release! I sincerely hope it gets the attention it deserves.
Quotable Quotes:
"You've just spent a year at sea, encountering untold dangers, and you find me interesting? I've never been anywhere. I've never seen anything."
Rating: 8/10
Read if you liked: A Madman's Daughter, This Dark Endeavour, romance, Downton Abbey
Optimistically yours, Ola