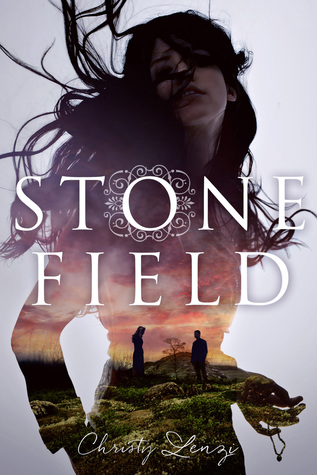 Taken from Goodreads
(how pretty is this cover??)
Stonefield by Christy Lenzi

Released: March 29th, 2016
Read: February 2016
Publisher: Roaring Brook Press
Format: Paperback ARC, 320 pages
Series: N/A
Source: McNally Robinson Two Thumbs Up Program
Description from Goodreads:
In a small town on the brink of the Civil War, Catrina finds a man making strange patterns in her family's sorghum crop. He's mad with fever, naked, and strikingly beautiful. He has no memory of who he is or what he's done before Catrina found him in Stone Field. But that doesn't bother Catrina because she doesn't like thinking about the things she's done before either.
Catrina and Stonefield fall passionately, dangerously, in love. All they want is to live with each other, in harmony with the land and away from Cat's protective brother, the new fanatical preacher, and the neighbors who are scandalized by their relationship. But Stonefield can't escape the truth about who he is, and the conflict tearing apart the country demands that everyone take a side before the bloodbath reaches their doorstep.
Review:
I chose this book because I absolutely love retellings of classic novels. This one is a retelling of Wuthering Heights, but not in the here and now (as most retellings are), but during the Civil War. I was excited, and so eager to read the result. But I was disappointed. Although the plot was sort of already written, it felt mish-mashed, and a little overwhelming. You could tell that the author was trying to emulate the writing style of Bronte, but it came across as forced, and almost sarcastic. It was a struggle trying to interpret what was actually being said. Another thing, was that the characters had very little development, (especially the main character) so you never really connected with Cat. I wasn't rooting for her to be happy in the end. I also had a problem with the romance in it. I love reading books where the main characters fall slowly in love. But SLOWLY! They literally were totally in love by page 50. Not even kidding. It was so fast! It was way too quick, and then Bible verses were added to make it sound as if it was less promiscuous. It was weird. I also didn't like the fact that they were able to somehow speak telepathically. That was never really explained. It was a weird book, all in all and unfortunately, not my favorite.
Reccomended for people who enjoy: retellings, romance, lots of descriptive language