Hello lovely readers! Here is another instalment of our special Christmas-themed 'What About Wednesday's! So without further ado, here is a review of a new holiday favourite of ours!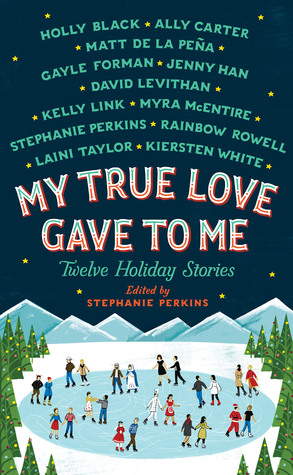 My True Love Gave To Me edited by Stephanie Perkins
Authors:Stephanie Perkins, Holly Black, Ally Carter, Matt de la Pena, Gayle Forman, Jenny Han, David Levithan, Kelly Link, Myra McEntire, Rainbow Rowell, Laini Taylor, Kiersten White
Release Date: October 14th, 201
4
Read: December 2016
Publisher: St. Martins Press
Series: Stand-Alone Short Stories
Summary from Goodreads:
If you love holiday stories, holiday movies, made-for-TV-holiday specials, holiday episodes of your favourite sitcoms and, especially, if you love holiday anthologies, you're going to fall in love with My True Love Gave To Me: Twelve Holiday Stories by twelve bestselling young adult writers, edited by international bestselling author Stephanie Perkins. Whether you enjoy celebrating Christmas or Hanukkah, Winter Solstice or New Year's there's something here for everyone. So curl up by the fireplace and get cozy. You have twelve reasons this season to stay indoors and fall in love.
Review:
So this book was a cute one. Like a real cute one. I thought that most of the stories were amazing, and showcased the best of the authors's talents. I was over the moon at how cute and quaint every story was. While there were some that I wasnt the biggest fan of, but those that I did enjoy far outweighed the "bad" ones. If you are looking for the perfect Christmas stories, look no furthur. This is it. Like every anthology movie, this book really makes you believe in it's underlying theme: Christmas is a magical time of year. Although I will not go into specifics about each story, I have to give props to my favourite one of all. Midnights by Rainbow Rowell is probably the best and sweetest short story I have ever read. I was heartbroken when it ended, as I wanted more. More of the story, more plot, more, more, more. I honestly could've read an entire book of just this one short story. I loved how it was snippets of midnight every year for about five years. It let you grow with the characters, and in a really short time you cared deeply for the people in it. It's definitely a recommend!
Favourite Quote:
"I'm not going anywhere, Noel." "You are, and it's okay. Just... I need you to take me with you."
― Rainbow Rowell, My True Love Gave to Me: Twelve Holiday Stories
Rating:
7.5/10
Recommended for People Who Enjoy:
Short stories, true love, anthologies, "Love Actually", Christmas
Happy Reading!
Mari