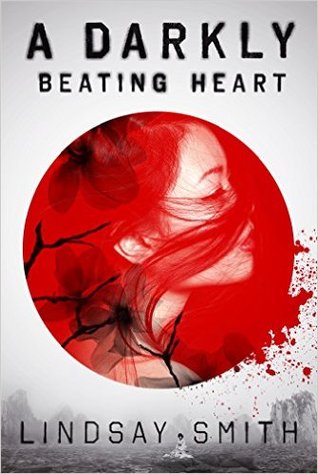 A Darkly Beating Heart by Lindsay Smith
Released:
October 25th, 2016
Publisher:
Roaring Book Press
Format:
ARC, 272 pages
Read:
September/October 2016
Description from GoodReads:
A time-travel story that alternates between modern day and 19th century Japan as one girl confronts the darkness lurking in her soul.
No one knows what to do with Reiko. She is full of hatred. All she can think about is how to best hurt herself and the people closest to her. After a failed suicide attempt, Reiko's parents send her from their Seattle home to spend the summer with family in Japan to learn to control her emotions. But while visiting Kuramagi, a historic village preserved to reflect the nineteenth-century Edo period, Reiko finds herself slipping back in time into the life of Miyu, a young woman even more bent on revenge than Reiko herself. Reiko loves being Miyu, until she discovers the secret of Kuramagi village, and must face down Miyu's demons as well as her own.
Review:
Time travelling thriller about bitter teenagers in Japan? Sign me right up! This book was exactly what I'd hoped it would be, without me knowing what was about to happen at every twist and turn.
Miyu is a wonderfully deep character who contrasts well with Reiko, who seems to only want revenge. Along with this, I found Reikos subtle "Hi I'm bi" attitude refreshing. There was no "Wow maybe I'm not straight" moment that seems to accompany her romance with Jiro.
The way we discover important plot points in the book is a work of art. There is no foreseeable plot twists here (or maybe I'm just oblivious!) and they all clicked wonderfully. There were parts that creeped and grossed me out in a good way. They were tasteful, if that's possible, and all added to the plot.
However, this novel is just under 300 pages. About 250 pages (not literally) build the plot and characters up beautifully, making me care, and interested me in what would happen to these dark darlings. The last 50 pages was left to make a complete ending. I was pretty sure that no author could wrap up a book in a neat bow in a mere 50 pages. And oh boy... was I right. The ending didn't fit the novel. You would find this kind of ending in a book aimed at 12 year olds. (Is that too mean?)
But I did love the book. I adored it! Give me more, Lindsay Smith! I would like a follow-up!
Quotable Quotes:
"I have mastered the path of hatred, and I know now where it ends. It ends with my revenge."
"I'm tired of walking around with these memories in me, throbbing like a knife I never bothered to pull from my back."
"Your mindset creates your reality, no matter what you believe."
"We are all defined by our past, our choices and circumstances have made us who we are. It's all there, carved into us indelibly. But... it is not our present. Or our future. That's what we control. It's what we choose to do with the past that is entirely up to us."
Rating:
8/10
Read if You Liked:
All Our Yesterdays by Cristin Terrill, confusing but generally ok time travel, Ink by Amanda Sun, Japan?
Optimistically yours, Ola <3