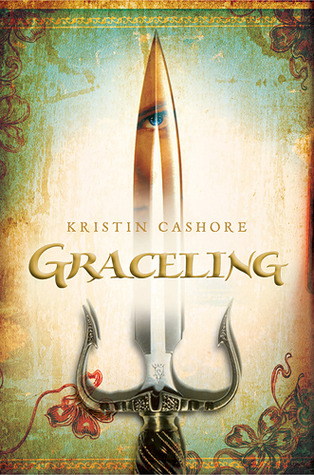 Taken from Goodreads
Graceling by Kristen Cashore
Release Date: October 1. 2008.
Read: Fall. 2012
Publisher: Harcourt
Format: Paperback, 471 pages
Description from Goodreads:
Katsa has been able to kill a man with her bare hands since she was eight - she's a Graceling, one of the rare people in her land born with an extreme skill. As niece of the king, she should be able to live a life of privilege, but Graced as she is with killing, she is forced to work as the king's thug.
When she first meets Prince Po, Graced with combat skills, Katsa has no hint of how her life is about to change.
She never expects to become Po's friend.
She never expects to learn a new truth about her own Grace - or about a terrible secret that lies hidden far away...
Review: I was told to read this because of my love for high fantasy. I was a little skeptical, but I decided to read it anyway. What I got was a mixed bag. The idea that some people have "Graces" (where they have a special power) is very interesting and unique. But I sorta had a small problem with Katsa (the main character). She seemed a little whiny at times, and it made me hard to feel sympathetic for her. But the story line made up for it. It was exciting, and took many twists and turns. Her counterpart Po is a great gentleman, willing to protect Katsa and his niece Bitterblue at all costs. It's a great adventure story line, but personally I like the sequel/prequel Fire better.
Favorite Quotes:
"When a monster stopped behaving like a monster, did it stop being a monster? Did it become something else?"
― Kristin Cashore, Graceling
Rating: 3.5/5 Stars
Recommended for people who like: YA, fantasy, fiction, romance, adventure
Happy Reading,
Mari