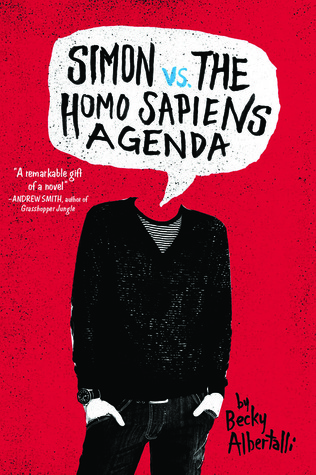 Simon vs. the Homo Sapiens Agenda
Release Date: April 17th, 2015
Read: November 2015
Publisher: Balzer + Bray
Format: Hardcover, 303 pages
Description from GoodReads:
Sixteen-year-old and not-so-openly gay Simon Spier prefers to save his drama for the school musical. But when an email falls into the wrong hands, his secret is at risk of being thrust into the spotlight. Now Simon is actually being blackmailed: if he doesn't play wingman for class clown Martin, his sexual identity will become everyone's business. Worse, the privacy of Blue, the pen name of the boy he's been emailing, will be compromised.
With some messy dynamics emerging in his once tight-knit group of friends, and his email correspondence with Blue growing more flirtatious every day, Simon's junior year has suddenly gotten all kinds of complicated. Now, change-averse Simon has to find a way to step out of his comfort zone before he's pushed out—without alienating his friends, compromising himself, or fumbling a shot at happiness with the most confusing, adorable guy he's never met.
Review:
This was the sweetest school drama-esque book I've read since Say You Will! I could literally write an essay about it, but don't worry, I won't.
The suspense is surprisingly thick around who Blue is until the last couple chapter, and it was definitely worth the wait. The book basically laughs at you when you try to guess while gently pushing you in the opposite direction.
Another thing I really liked about this book is how important the friendships are compared to the romantic relationships. A big part of the story is characters realizing what they did wrong and getting forgiveness. Altogether, amazing.
Quotable Quotes:
"White shouldn't be the default anymore than straight should be the default. There shouldn't even be a default."
"Ah. So, what you're trying to say is that we're really creepy."
"He talked about the ocean between people. And how the whole point of everything is to a shore worth swimming to."
Rating: 4.5/5
Read if You Liked: Will Grayson Will Grayson, Say You Will, Sarah Dessen, Carry On
Optimistically yours, Ola <3