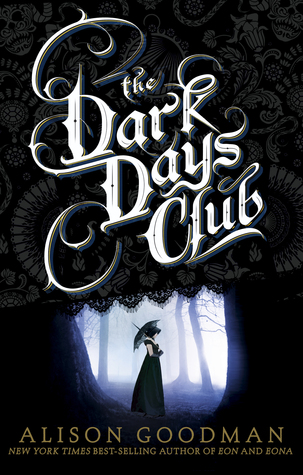 The Dark Days Club by Allison Goodman
Released: January 26th, 2016
Read: January 2016
Publisher: Viking Books for Young Readers
Format: Paperback ARC, 496 Pages
Description from Goodreads:
London, April 1812. On the eve of eighteen-year-old Lady Helen Wrexhall's presentation to the queen, one of her family's housemaids disappears-and Helen is drawn into the shadows of Regency London. There, she meets Lord Carlston, one of the few who can stop the perpetrators: a cabal of demons infiltrating every level of society. Dare she ask for his help, when his reputation is almost as black as his lingering eyes? And will her intelligence and headstrong curiosity wind up leading them into a death trap?
Review:
Where do I begin? Being a historical fiction and fantasy fan, this book grabbed my right from the start. I love Lady Helen herself. She is a strong woman in a time when being unladylike was frowned upon. Although there is a slow start to the main plot point (just under a hundred pages in) it's well worth it. The way Goodman writes about how Helen gets/realizes her powers is interesting- not at all cheesy. You end up urging her to realize her full potential, rather than roll your eyes. But my favorite character was Lord Carlston. He's dark, handsome and the epitome of every fictional love interest. In the synopsis, it says something along the lines "... his bad reputation." Boy does he ever have one! This makes the tension between the two of them even better! My one critique was that some of the lines sounded sort of fake- like the line didn't fit with the character. It was odd, but this book has the perfect blend of the supernatural with historical fiction that it was still a great read!
Favorite Quotes:
"You have far more courage than you think you do." - The Dark Days Club by Allison Goodman
Rating: 8.5/10
Recommended for people who like: paranormal, supernatural, fantasy, historical fiction, romance
Happy Reading,
Mari