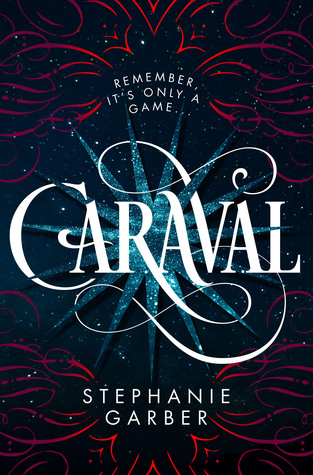 Caraval by Stephanie Garber
Released: January 31st, 2017
Read: February 2017
Publisher: Flatiron Books
Format: Hardcover, 407 pages
Series: Caraval 1
Description from Goodreads:
Whatever you've heard about Caraval, it doesn't compare to the reality. It's more than just a game or a performance. It's the closest you'll ever find to magic in this world . . .
Welcome, welcome to Caraval―Stephanie Garber's sweeping tale of two sisters who escape their ruthless father when they enter the dangerous intrigue of a legendary game.
Scarlett has never left the tiny island where she and her beloved sister, Tella, live with their powerful, and cruel, father. Now Scarlett's father has arranged a marriage for her, and Scarlett thinks her dreams of seeing Caraval, the far-away, once-a-year performance where the audience participates in the show, are over.
But this year, Scarlett's long-dreamt of invitation finally arrives. With the help of a mysterious sailor, Tella whisks Scarlett away to the show. Only, as soon as they arrive, Tella is kidnapped by Caraval's mastermind organizer, Legend. It turns out that this season's Caraval revolves around Tella, and whoever finds her first is the winner.
Scarlett has been told that everything that happens during Caraval is only an elaborate performance. But she nevertheless becomes enmeshed in a game of love, heartbreak, and magic with the other players in the game. And whether Caraval is real or not, she must find Tella before the five nights of the game are over, a dangerous domino effect of consequences is set off, and her sister disappears forever.
Review:
Holy crap this book knocked my socks off. Big time. The world that Garber painted was so real and so vivid, you could literally taste the magic in the air. I loved this book from start to finish, and it really didn't have that "boring" intro part that plagues so many YA novels today. From the beginning, I could sense that this a book, singular in it's brilliance. I thought that it was so intriguing, and I loved the characters! All of the characters felt so round, and were fully developed, it seemed that there was no line where the characters began, and their stories ended. It was seamless to say the least. Plus the plot was one of the best I've read in a good long while. It kept me guessing, and the twists and turns that it took were really hard to follow (but in a really great way!). I was kept on my toes, and I loved that there was so much to soak up. I couldn't put this book down, and I'm pretty sure I read it in a manner of two days. Plus the romance in the novel was so adorable! I really thought that it was a nice touch to the plot. In all honesty, I simply cannot wait for the sequel to drop!
Favourite Quote:
"She imagined loving him would feel like falling in love with darkness, frightening and consuming yet utterly beautiful when the stars came out."
― Stephanie Garber, Caraval
Rating:
9.5/10 Stars
Reccomended for people who enjoy: mystery, romance, magic, fantasy, mind games, the carnival
Happy Reading,
Mari