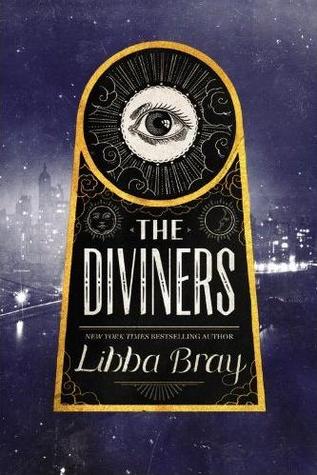 The Diviners by Libba Bray

Release date: September 8, 2012
Read: February 2015
Publisher: Little, Brown Books for Young Readers
Format: Hardcover, 529 pages
Description from Goodreads:
Evie O'Neill has been exiled from her boring old hometown and shipped off to the bustling streets of New York City—and she is pos-i-tute-ly ecstatic. It's 1926, and New York is filled with speakeasies, Ziegfeld girls, and rakish pickpockets. The only catch is that she has to live with her uncle Will and his unhealthy obsession with the occult.
Evie worries he'll discover her darkest secret: a supernatural power that has only brought her trouble so far. But when the police find a murdered girl branded with a cryptic symbol and Will is called to the scene, Evie realizes her gift could help catch a serial killer.
As Evie jumps headlong into a dance with a murderer, other stories unfold in the city that never sleeps. A young man named Memphis is caught between two worlds. A chorus girl named Theta is running from her past. A student named Jericho hides a shocking secret. And unknown to all, something dark and evil has awakened.
Review:
Normally, I don't go for the really creepy, and paranormal books. Add the fact that it's set in the 1920's, and you are in for a really scary ride.
Now I don't want to scare you away from the book, however it's not for the faint of heart. I think I first realized this during the introduction. It begins at a party with a Ouija board. A OUIJA BOARD! I think any normal person would see that it's only going to go downhill from there.
Like I said before, I'm not the creepy book type of gal. But this book kept me hooked. I literally couldn't stop reading. It took a while to hit the action, as Bray did a lot of character building on Evie (the main character). Once it hit, it was awesome. Every twisty turn was refreshingly original, and I never felt bored.
Although, I wish that we could have seen a little more of New York City in the 20's. The whole story stayed in one area, so I think had we traveled a little further, the story would have had even more depth to it. All in all, it was a great book, and I can't wait to read the next one!
Favorite Quote:
"Naughty John, Naughty John, does his work with his apron on. Cuts your throat and takes your bones, sells 'em off for a coupla stones." ― Libba Bray, The Diviners
(Not gonna lie, this was one of the creepiest parts of the book)
Rating:
4/5 Stars
Recommended to people who like:
horror, paranormal, supernatural, YA, romance, exciting, thriller, mystery
Happy Reading,
Mari