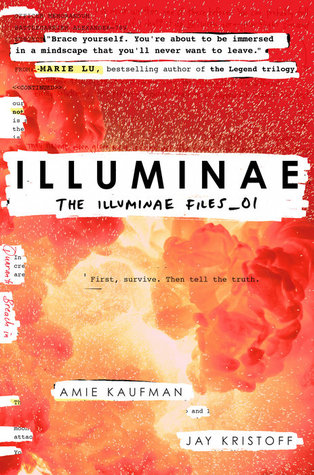 Illuminae by Amie Kaufman and Jay Kristoff
Released: October 20th, 2015
Read: December 2015
Publisher: Knopf Books for Young Readers
Format: Paperback ARC, 599 pages (borrowed from the lovely Ohana Reads)
Description from Goodreads:
This morning, Kady thought breaking up with Ezra was the hardest thing she'd have to do.
This afternoon
, her planet was invaded.
The year is 2575, and two rival megacorporations are at war over a planet that's little more than an ice-covered speck at the edge of the universe. Too bad nobody thought to warn the people living on it. With enemy fire raining down on them, Kady and Ezra—who are barely even talking to each other—are forced to fight their way onto an evacuating fleet, with an enemy warship in hot pursuit.
But their problems are just getting started. A deadly plague has broken out and is mutating, with terrifying results; the fleet's AI, which should be protecting them, may actually be their enemy; and nobody in charge will say what's really going on. As Kady hacks into a tangled web of data to find the truth, it's clear only one person can help her bring it all to light: the ex-boyfriend she swore she'd never speak to again.
Review: Reading this book was unlike anything I've ever read before. This was such an interesting and refreshing take on the normal scifi genre. Instead of having the story be told by the protagonists, it took a multimedia approach. The plot was told through emails, reports, schematics, files, medical reports and interviews. It was exciting to turn the page, not knowing what would be on the other side. I have to say, I liked this book. Like a lot. Kady (one of the two main characters) is so ballsy and cool! She does what she wants, when she wants and doesn't care if she clashes with the people in charge. I loved reading the reports on her, where she breaks into secret rooms and then waves at the camera to the people watching. In a book that is ultimately about survival in the deep, dark space, reading about Kady was refreshing and a tension relief to say the least. Her relationship with Ezra was SO CUTE, and you were hoping that they'd rekindle their relationship by the end. The tension over "will Ezra get away from the infected crazies?" really kept the plot driving forward, and kept you turning the page to see what would happen. And don't get me started on AIDEN, the AI (artificial intelligence) on the ship. Reading about what he was "thinking" was so incredibly unique, and it was a testament to the authors talent on how well they wrote his scenes. I would think that it's hard to write about a character who really isn't alive, but is still "feeling". The authors approach this with poise, and although this is a computer talking, it feels like a human voice. It was actually quite beautiful. Reading the scenes of his was almost like reading poetry turned into art. Confusing to write down, but if you read it, you'll understand. In a weird way, this book was basically a mash up of a "zombie survival" story (the infection that breaks out and that is SUPER contagious), a rouge computer (AIDEN) and a wild space adventure wrapped up into one. So cool... This novel ended on a cliffhanger, so I will definitely be watching for book two come October!
Favorite Quotes:
"I am frequently underestimated. I think it's because I'm short."
"The universe owes you nothing, Kady. It has already given you everything, after all. It was here long before you, and it will go on long after you. The only way it will remember you is to do something worth remembrance."
"All he cares about here on the edge of forever, is her. He does not want to die. Not because he is afraid. Simply because he cannot bear the thought of leaving her behind."
Rating: 9/10
Recommended for people who enjoy: scifi, romance, adventure, survival stories
Happy Reading,
Mari