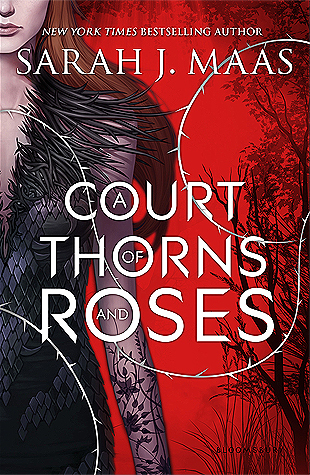 A Court of Thorns and Roses by Sarah J. Maas
Released: May 5th 2015
Read: M
ay 2016
Publisher: Bloomsbury Children's
Format: Hardcover, 416 pages
Series: A Court of Thornes and Roses #1
Description from Goodreads:
When nineteen-year-old huntress Feyre kills a wolf in the woods, a beast-like creature arrives to demand retribution for it. Dragged to a treacherous magical land she only knows about from legends, Feyre discovers that her captor is not an animal, but Tamlin—one of the lethal, immortal faeries who once ruled their world.
As she dwells on his estate, her feelings for Tamlin transform from icy hostility into a fiery passion that burns through every lie and warning she's been told about the beautiful, dangerous world of the Fae. But an ancient, wicked shadow grows over the faerie lands, and Feyre must find a way to stop it... or doom Tamlin—and his world—forever.
I first heard of this book from the ever so lovely Ohana Reads about a year ago when it first came out. From her I heard positive things about the book, that it was AMAZING and so forth. However, I had a TBR list about a mile and a half long so I (can't believe!) pushed it out of my mind. When I stumbled across it in the local library, it suddenly came back to me. I decided to check it out and read it, because why not? I am so glad I did! This book was an amazing blend of high fantasy and romance. Not to mention the incredible setting and character development. I had to read a little while, until it really grabbed me, but boy did it ever grab me. I found the mysterious plot intriguing, and it was one of those books that kept my attention until the very end. I'll admit, I did very little homework the few days that I had it. It was so good. I really fell in love with the characters, and it was a joy to read about them. I simply loved everything about the novel. Plus the relationship between Feyre and Tamlin really grew and developed as the book moved forward, but not in a pushy or rushed way. However I would have liked to find out more about the other courts in the realm, because I think it would have given a certain depth to the story. But still amazing!
"Rhysand stared at me for long enough that I faced him.
"Be glad of your human heart, Feyre. Pity those who don't feel anything at all."
― Sarah J. Maas, A Court of Thorns and Roses
Rating: 8.5/10 Stars
Reccomended for people who enjoy: romance, fantasy, cool heroines, magic
Happy Reading,
Mari
P.S. Keep a look out for my review of the sequel, "A Court of Mist and Fury"!